GOLF
Golf Adriatic Course was opened in 2009. A professional course, with 18 holes totalling 6360 meters, deployed on 80 acres, with a PAR of 72, is characterized by an interesting arrangement of the holes that is challenging for players of all levels. The course was luxuriously designed by DI. Diethard Fahrenleitner and DI. Barbara Eisserer who received the Austrian "Golf Art Landscape" award.
CYCLING AND HIKING
North-western Istria, with its mild Mediterranean climate and endless local roads, is perfect for cycling or hiking. The most known is the Parenzana Route, created along the way of the old narrow-gauge railway, nowadays transformed into a hiking and biking trail. Vineyards and olive groves, forests and streams, medieval towns with their unique charm, are just a few of the highlights of this cycling route.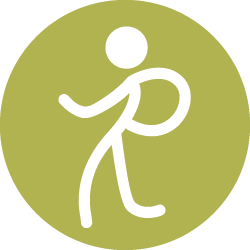 SEA – BEACH – POOL
For summer refreshments, there is a pool area with two fresh water pools: a children's pool with water playgrounds and a swimmer's pool, all of them reserved for Skiper's guests only. Sunbeds and parasols are available free of charge for the residents. From the pool terrace, you can enjoy a wonderful view of the sea and the coast.
Those who prefer sea swimming will find a public beach a few minutes away. You can visit one of the most spectacular new beaches on the Adriatic coast – the Kempinski Beach. Also the Alberi beach is a great base for surfing, supping and other water sports including diving.
TENIS – FITNES
The Skipper Resort offers 4 tennis courts (green set), a multifunctional sports field for football and basketball, a beach volleyball court and a well-equipped fitness centre.
CHILDREN'S PLAYGROUND
Skiper Resort children's playground is situated in the sports park. Kids will have immense fun on slides, swings and climbing frames. While kids play outside on the fresh sea air, parents can relax in a pleasant park near the playground.
SKIPER
Skipper Residence is a magnificent resort for active sports enthusiasts, appropriate through all four seasons. Stunning sea life, beach, golf, cycling or hiking is offered here and also on the whole Istria peninsula …
BENEFITS
Buyers of the Skipper apartments have many benefits of using the sports infrastructure, such as free use of playgrounds, fitness, swimming pools, well-kept hotel beaches …
APARTMENTS
FOR SALE
Comfortable, totally furnished apartment units (together 60) in a well maintained apartment building, built in 2002 …